MMTC offers numerous CPAT firefighting equipment, such as the ceiling breach machine and the forcible entry support frame.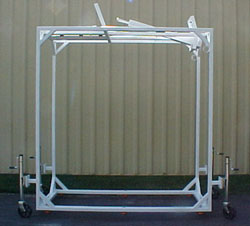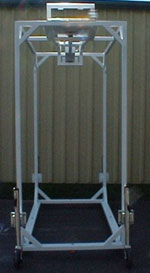 Ceiling Breach Machine
The main frame will be fitted with four swivel wheeled jacks with fold away handles for easy movement.
The frame will rest on rubber machinery mounts when in use.
There will be two movable areas, the ceiling-pull device and the hinged door; Each will be weighted with tamper proof weights.
The movable items will have replaceable neoprene bumpers to act as stops.
Painted with primer and enamel.
Note:
With the addition of the Neoprene Bumpers and the Rubber Machinery Mounts the noise level is greatly decreased.
---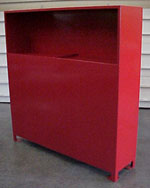 Equipment Carry
17″ wide x 5′ – 7″ long x 5′ – 10″ tall
All panels welded in place
Opening approximately 19-3/4″ x 64-3/4″
Painted with primer and enamel
---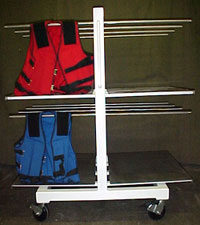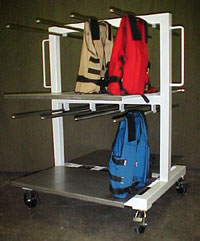 Vest Cart
Cart will be 48″ x 60″ and approximately 70″ tall
Steel construction with 16 stainless steel hangers and 4 stainless steel trays
The cart capacity is 16 vests.
2 swivel casters with a brake and 2 rigid casters.
The steel portion will be painted with primer and enamel.
---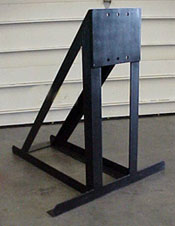 Forcible Entry Support Frame
Built to fit forcible entry unit.
Painted with primer and enamel.
Holes in the base for fastening to the floor.
---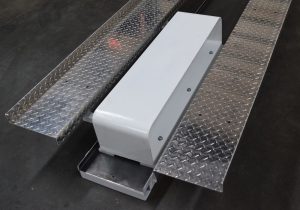 10 Pound Sledge Hammer Sled 
Similar to the existing type with the following additions.
A support tube was added in the center of the frame to support the slide tray when walked upon.
Four tabs were added to each side of the outside of the SS Slide Tray and bolted to the frame to maintain the flatness of the tray.
The steel portion will be painted.